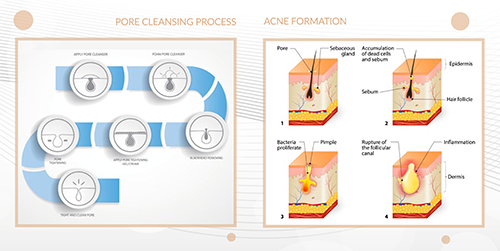 DEEP SKIN CLEANSING FACIAL WITH EXTRACTIONS.
A deep facial cleansing treatment goes well beyond what a traditional facial will do. The deep cleansing facial is well suited for people with acne, clogged pores, breakouts, whiteheads, blackheads or those prone to excessive oil on their face. The facial focuses on exfoliation and a deep cleansing component with manual extractions.

WHAT IS DEEP CLEANSING FACIAL?
Deep cleansing facials use a variety of products and procedures to cleanse your face more thoroughly than other facial treatments provide. You can expect to have your face steamed to open up the pores, an extraction of clogged pores, whiteheads and blackheads, a deep pore cleansing treatment and healing masks to improve the skin's surface and underlying layers. The deep cleanse extracts oil and debris from your pores and use highly concentrated products to balance and disinfect. Those with sensitive skin may choose to avoid this type of facial as irritation can be very uncomfortable.

WHAT ARE THE BENEFITS OF DEEP SKIN FACIAL?
Products used for a deep cleansing facial balance the sebum production, contain sebum reducing components with disinfecting and healing ingredients. People with severe acne or oily and clogged skin require regular extractions to keep the skin free of inflammation. Clogged pores cause bacterial build up on the skin. A deep cleansing facial also help smooth the skin's appearance and reduce the size of your pores. Once skin been cleansed and extracted it can flake slightly within few days after the treatment once the healing process takes place skin will become radiant, clear, skin tone will improve . You can expect your skin to be better hydrated, with less breakouts. Many people find this type of facial helps to maintain and manage the acne outbreaks.

WHAT ARE THE RISKS?
Similar to other facials, people with sensitive skin may experience some irritation, redness and dryness on your skin. The redness can be caused by the extractions or by the chemicals found in the cleansing treatment. Both of these are only temporary and should go away within a few days. Small bruising and scabs can be expected in some cases, it is all normal and should go away within a few days to a week. People who are sensitive to pain may want to avoid extractions which feel like a pinch on the skin.

DEEP SKIN CLEANSING FACIAL PROCEDURE.
-Removal of make up
-Skin cleansing
-Exfoliation using scrub for specific skin type
-Ultrasonic skin cavitation
-Application of skin softening mask
-Face steam

Teatment time: Basic 1h-1.15min; Deluxe 1.5h

Treatment can be upgraded to Deluxe Deep Skin Cleansing with Extractions, Face Massage and Algae Face Mask. It can be also combined with Microdermabrasion which is very beneficial for clients with thick, dull skin and build up of Stratum Corneum Layer. Products used during the treatment will be tailored to specific skin type following the consultation. Some of treatment procedure might have to be changed or tailored due to specific skin types or contraindications.

Deep skin cleansing Basic - £60
Deep skin cleansing Deluxe - £90

ADVANCED TREATMENTS RECOMMENDED FOLLOWING DEEP SKIN FACIAL WITH EXTRACTIONS.


Chemical Peels: Clients with very greasy skin who suffer from blackheads, acne or breakouts would benefit from chemical peels treatments once the deep skin cleaning been completed. It helps to balance the sebum production , reduces inflammation and improve skin tone.


Carbon Laser Facial: Clients with very greasy and mixed skin would benefit from Carbon Laser Facial which helps to balance sebum production as it absorbs oil deep within the pores.


Microdermabrasion: Clients with thick dull skin will benefit from Microdermabrasion, the removal of the dead skin cells reveals the softer more youthful looking skin cells underneath, improving skin tone and colour.


All additional treatments can be discussed during the consultation.


Contraindications that prevent a facial treatment:

Accutane or Roaccutane , active acne, very sensitive skin, pregnancy (Darsonval can not be used), viruses such as colds, cold sores, warts, bacterial infections such as impetigo, boils, conjunctivitis, styes, fungal infections such as ringworm, blepharitis, undiagnosed lumps or swelling, known sensitivity or allergy to products.


Contraindications that could restrict a facial treatment:

The following conditions are contraindications that will not necessarily stop the treatment from taking place but they may mean that the treatment is restricted or may have to be adapted: cuts/abrasions/ broken skin, bruises or swelling, recent scar tissue (less than six months old), eczema, dermatitis, psoriasis, acne vulgaris, acne rosacea, skin tags, recent sunburn, medication that may affect treatment needs to be disclosed, claustrophobia, broken capillaries/veins.
Keep Your Appointment Here
Book consultation