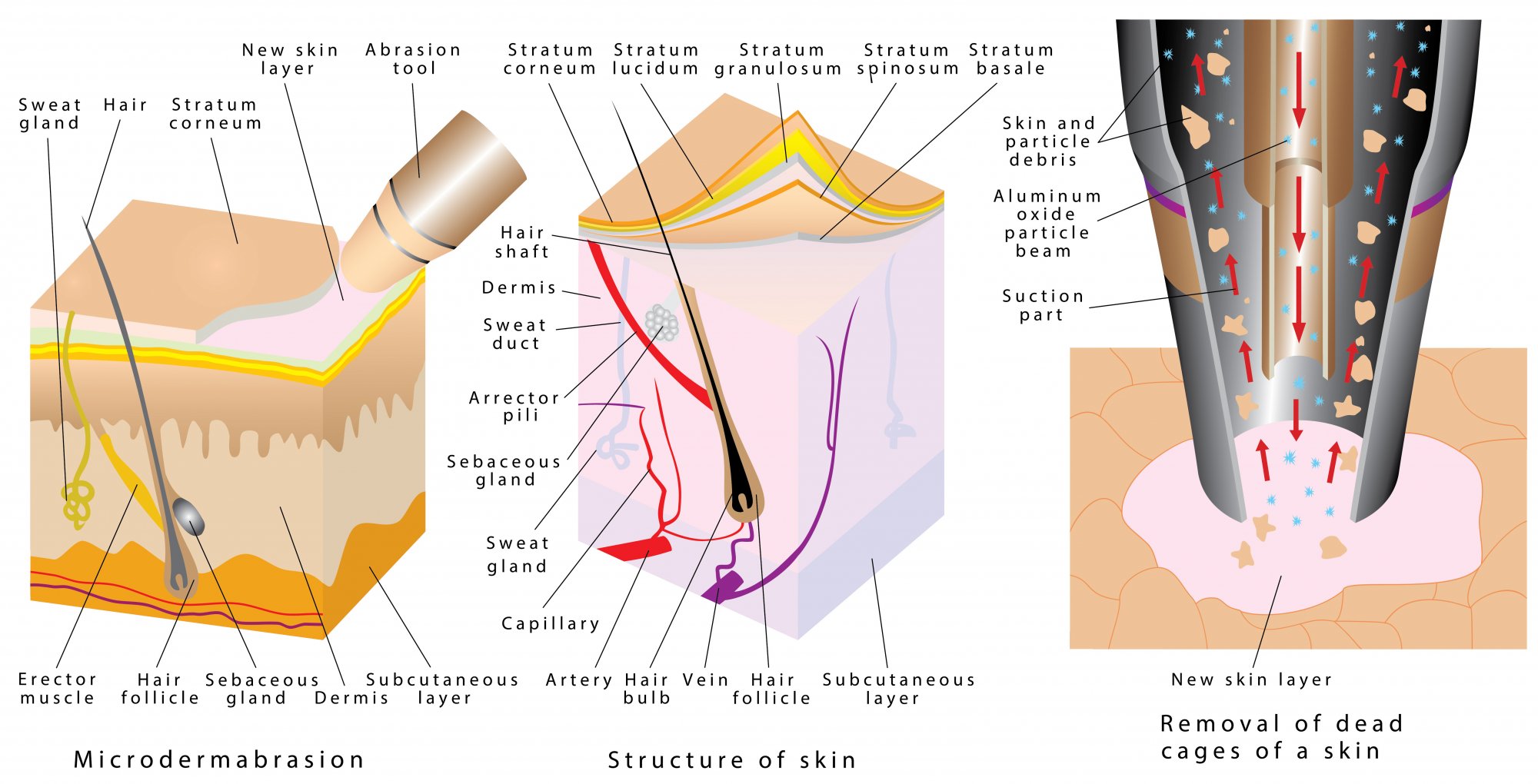 As we age, the automatic process of exfoliation and cell renewal slows down. Sometimes the body needs a little help.
Microdermabrasion is a cosmetic procedure in which the stratum corneum (dead the outermost surface of the skin ) is partially or completely removed by light abrasion.
The removal of the dead skin cells reveals the softer more youthful-looking skin cells underneath. The superficial abrasion of the skin also triggers the body's own natural repair mechanism which triggers the production of new collagen and releases glycosaminoglycans in order to rehydrate and replenish the recently abraded area. This has a remarkable softening action on surface lines and wrinkles.
The procedure is not very painful and requires no anesthetic. Microdermabrasion can be used medically for scar removal when the scar is raised above the surrounding skin, but is less effective with sunken scars.
Microdermabrasion can also be used to treat sun-damaged skin and to improve acne but must be repeated periodically to be effective. Different microdermabrasion methods are used to exfoliate the skin.
Traditional crystal-based Microdermabrasion uses a treatment handpiece that directs a fine mist of exfoliating crystals onto the skin surface. The used crystals and dead skin cells are then vacuumed back up into the treatment handpiece and deposited into a closed-filter container and discarded. The speed at which the handpiece is moved across the skin surface and the abrasiveness of the type of crystals used will determine the depth of abrasion. Aluminum oxide crystals are irregular in shape and provide aggressive skin exfoliation. Quartz silica crystals are perfectly round microspheres that are less harsh on the skin and provide a gentle exfoliation, skin polishing and refining action on the skin.
Treatment time 30min/45min
Keep Your Appointment Here
Book consultation