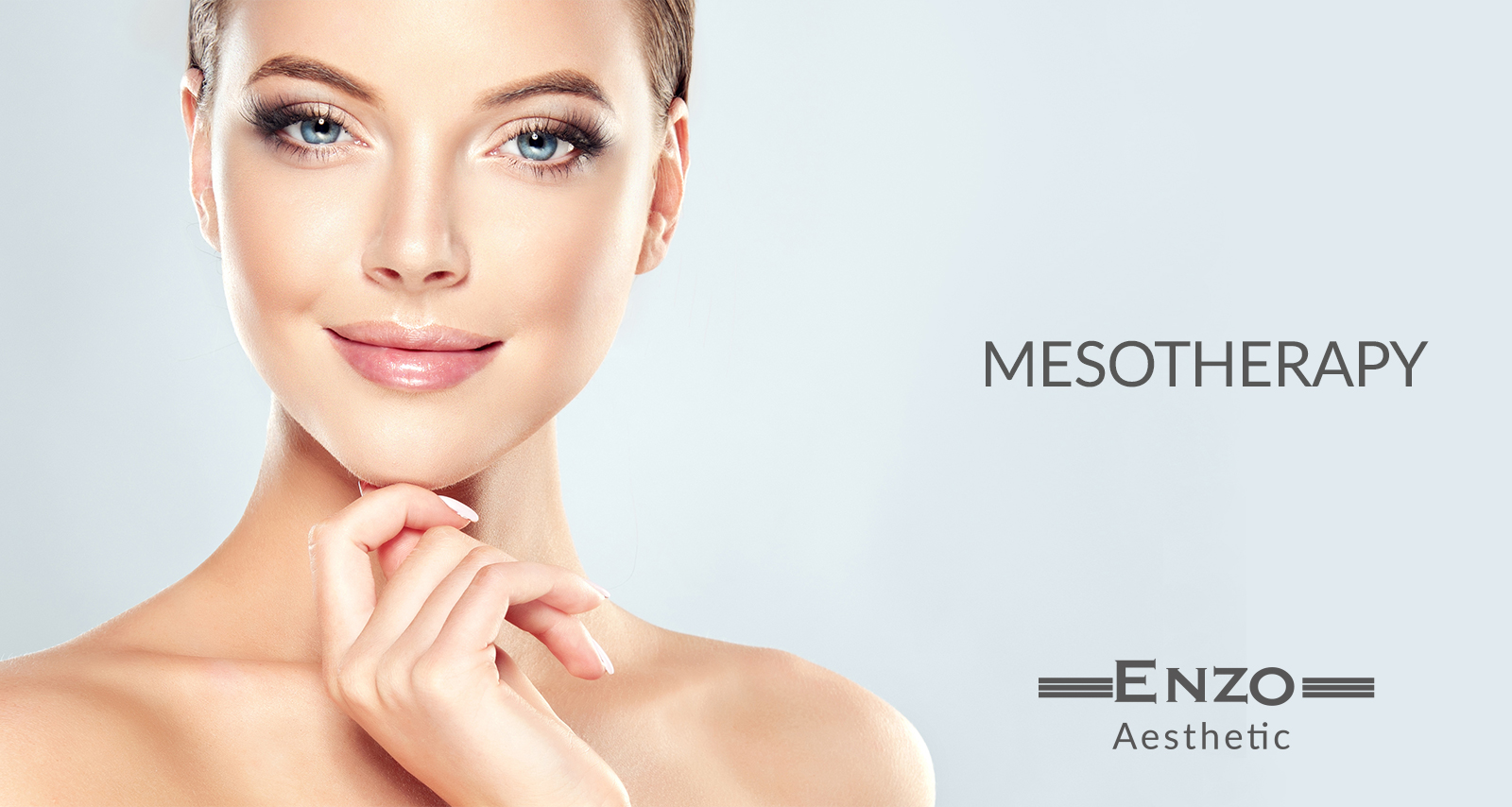 What is Mesotherapy?
Mesotherapy is a needling treatment based on injecting active ingredients into the deeper layers of the skin: dermis and subcutaneous tissue. Mesotherapy involves tiny little needles injections with use of highly concentrated serums. These go directly into the middle layer of the epidermis improving results of micro needling effectively. Mesotherapy is very effective in treating several skin conditions. Mesotherapy treatment is recommended for skin rejuvenation, hydration & anti-aging. Mesotherapy can also treat capillaries, acne, skin inflammation, hair loss, cellulite & lipolysis of fat deposits. Healthy, and radiant skin glow is expected to last for weeks post-treatment. Injection of products depends on what is being treated. To rejuvenate the skin in general, highly concentrated serums are used. Serum solution includes growth factors, peptides, vitamins, hyaluronic acid and more. To get rid of fat in a particular area a lipotropic product is used which acts as a catalyst to break down the fat. For a hair loss cocktail with hair growth factors, minerals and tricho-boosters is used.

What happens in Mesotherapy?
The face or treated area is cleansed and gentle exfoliation is performed. A topical anesthetic can be applied if required; the treatment is almost painless and shouldn't take longer than an 30min to 1hour, depending on the area treated. A number of recommended treatments is usually between 4-8. For the bests results treatments should be performed once a week. The downtime depends on what condition treated and the intensity. For general rejuvenation, there's actually no downtime at all. Client can go straight back to work and will experience only a little temporary dryness or a feeling of 'tightness' by day two. If fat reducing is carried out, it is expected to experience mild redness and swelling. It resolves within three days, bruising may be visible if the treatment was very intensive.

Pros of Mesotherapy
-Stimulates collagen production, helps reduce wrinkles.
-Targets moderate pigmentation.
-Improves skin colour.
-Treats hair loss, improves hair growth.
-Treats cellulite and fatty areas.
-Treatment is quick and painless.
-Can be combined with other treatments.
-Can be used on all skin types.
-Treats aging hands.

Cons of Mesotherapy
-Fatty area treatment requires a little downtime.

Device used: Mesotherapy Gun Pistor Eliance MI Medicinal.

Benefits of using MI Medical Mesotherapy Gun Pistor Eliance: PISTOR Eliance is equipped with an ergonomic control panel for tactile control management enabling fast and easy specific programming and selection from 6 pre-programmed injection modes. The settings, which are highly precise, facilitate treatment implementation & ensure exceptional reliability of delivery. Gentle and quiet, gun use is virtually painless for patients even in sensitive areas such as the scalp or face. The electronics incorporated in PISTOR Eliance enables easy and precise adjustments of penetration depth, injection volume and injection time. Incorporating the very latest components, PISTOR Eliance is suitable for injecting solutions with a high viscosity index, such as hyaluronic acid (viscosity index: 5,500 Pa/s). PISTOR Eliance It has been designed to facilitate its use under all treatment conditions: it is suitable for pain treatment, trauma therapy, general medicine, sports medicine, aesthetic medicine. All devices have single use consumables associated with their use.
Keep Your Appointment Here
Book consultation