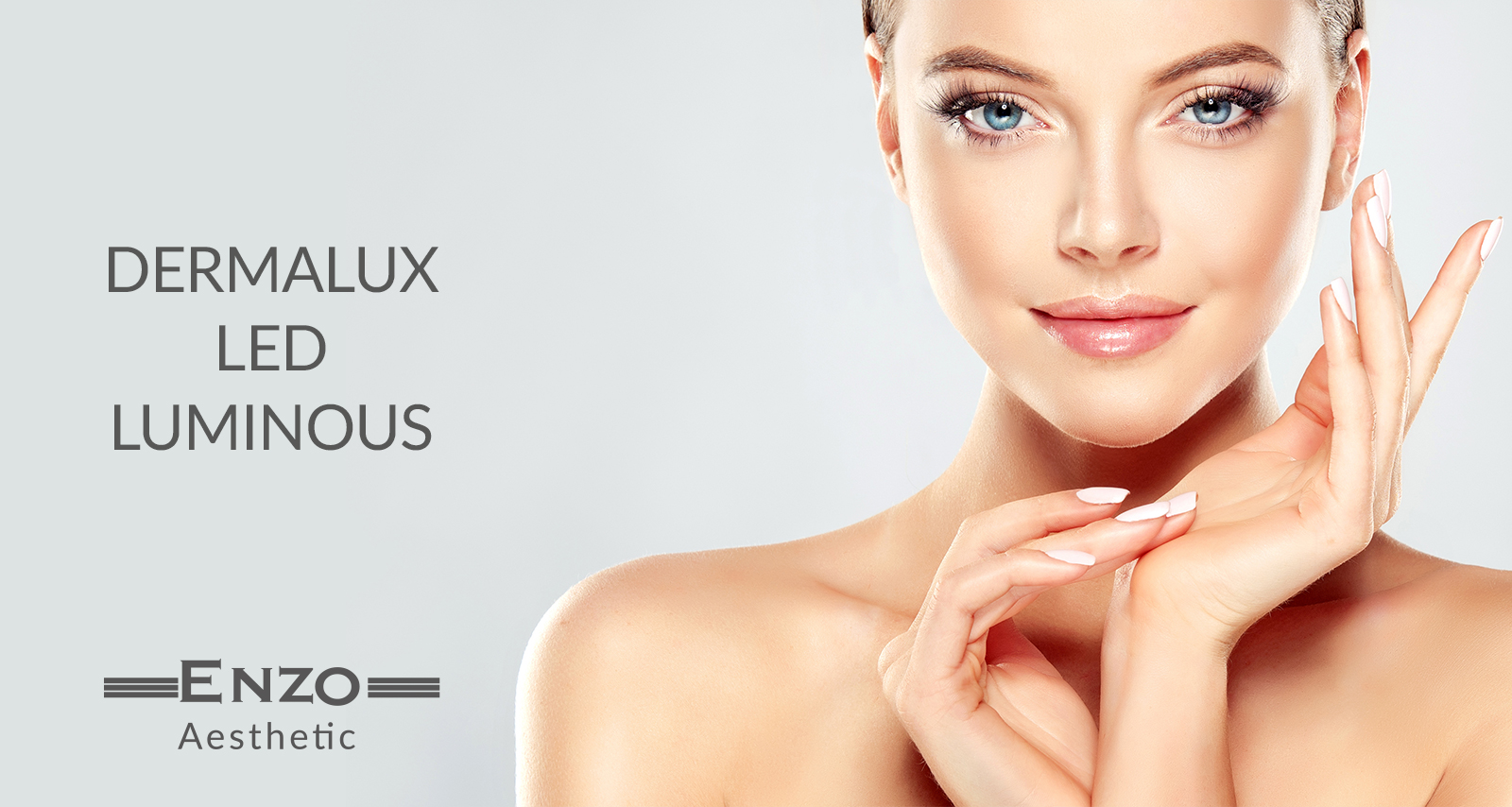 WHAT IS LED LUMINOUS LIFT BY DERMALUX?
The LED Luminous Lift is the perfect treatment to help repair, replenish and revive problem, damaged or ageing skin. This exceptionally effective, cutting-edge treatment combines a rainbow of light frequencies to cleverly deliver immediately visible results. Results can be enhanced with a course of treatments leaving your complexion healthy and glowing. During a 30-minute LED Luminous Lift the antibacterial properties of blue light can help to calm down acne and breakouts making this an excellent treatment for congested and acne prone skin. The red and near infrared light frequencies encourage the production of collagen to help renew and rejuvenate your complexion. LED Luminous Lift uses an advanced non-ablative light technology that is not aggressive compared to laser treatments, providing remarkable improvements without any post-treatment downtime. The LED Luminous Lift is the ideal for those with acne, acne scarring, post-surgery scars, injury scars or ageing skin. Even if you don't suffer with these skin concerns, it can still improve the appearance of healthy skin, adding noticeable radiance and an instant lift. All treatments are tailored to the individual and personal experiences and results may vary. We recommend a one to one consultation with our Treatment Coordinators to discuss your treatment options.

WHICH AREAS CAN BE TREATED WITH LED LUMINOUS LIFT?
LED Luminous Lift can be used on the face and chest. Therefore, if your skin concerns are visible below the neckline, your décolletage and chest area can be treated effectively too. Whether you wish to tackle acne prone skin, fight the signs of ageing or simply want a quick rejuvenating boost to your complexion, LED Luminous Lift can be an amazing solution.

WHICH SKIN CONCERNS CAN BE ADDRESSES WITH LED LUMINOUS LIFT?
LED for acne and acne scarring. The blue light frequency is exactly what is required when treating acne and acne scarring. It works to heal the skin by increasing blood circulation and repairing the epidermis. The blue light is also antibacterial, helping to calm and cleanse problem areas. The red and infrared light frequencies encourage the production of collagen to provide further benefits to the health and appearance of the skin.

LED for skin tightening.
LED Luminous Lift is a great treatment to fight back against the signs of ageing. Within its rainbow of light frequencies the red and infrared lights can help to boost the skin's
collagen production, helping skin to look firmer and younger. The blue frequency encourages increased blood circulation, prompting the skin to heal itself. The perfect solution to combat fine lines and wrinkles.


DERMALUX LED LUMINOUS LIFT FAQs

Is LED Luminous Lift a safe treatment?

LED Luminous Lift is a safe, FDA approved treatment. The lights used do not contain any harmful UV wavelengths, therefore the treatment is perfectly safe for all skin types.
Is LED Luminous Lift painful?
LED Luminous Lift is one of our most relaxing treatments. All you have to do is lay back and relax whilst the light frequencies gently replenish your skin. Most clients describe the experience as a feeling of light warmth on their skin and many also tend to drift off during the treatment.
Can I go in the sun after LED Luminous Lift?
Yes, you are free to be exposed in the sun. Since LED Luminous Lift does not promote photosensitivity you can go in the sun before and after the treatment.
Can LED Luminous Lift give me a tan?
No, you will not get a tan from LED Luminous Lift, since the treatment doesn't involve UV rays that trigger then production of melanin, which is responsible for tanning.
LED PHOTOTHERAPY
LED Phototherapy is based on the principle that living cells are able to absorb and are influenced by light and the treatment has long been recognised for its regenerating and anti-inflammatory properties. While we often associate light exposure with skin ageing and damage, light also has many positive influences on the body. It helps us produce vitamin D and provides energy and serotonin and can also accelerate our skin's natural repair processes. The differences between the positive and negative effects of light are the amount and the parts of the light spectrum we are exposed to. On-going exposure to UV is very damaging but controlled levels of Red, Blue and Near Infrared light are clinically proven to be beneficial. The treatment involves exposing the skin to low levels of this beneficial light energy from the visible and infrared part of the light spectrum which energise cellular functions to stimulate various cellular processes with therapeutic effects. Skin cells that are energised function better and regenerate faster which in turn leads to younger, healthy and radiant skin.
The effects of LED Phototherapy are a natural response similar to that of plant photo-synthesis through a process known as photobiomodulation. Achieving results with LED Phototherapy is dependent of a number of key parameters to maximise the light/chromophore interaction that allow photobiomodulation to take place. The key parameter is the precise wavelength or nanometre (nm) which determines the target for the light and also the depth of penetration into the skin. The second important parameter is the output power or photon intensity.
The first law of Photobiology states 'photons must be absorbed by the target chromophore to activate a cellular response'. Each individual wavelength has a specific target chromophore within the skin (such as melanin, haemoglobin, water, cytochrome c oxidase, porphyrins etc.). Shorter wavelengths have more superficial targets and longer wavelengths penetrate to targets at deeper levels in the skin. If the wavelength does not match the target chromophore then there will be no absorption and no reaction and therefore no result. Furthermore if the photon intensity is too low and insufficient energy is applied to reach the target cells, again there will be no result as the minimum threshold has not been met. Not all LED Phototherapy systems are the same!
REAL RESULTS WITH DERMALUX®
Following a single Dermalux® treatment, clients can expect immediate improvement in skin tone, hydration and overall radiance which will continue in the following days. Redness and irritation is calmed. However, most changes occur naturally over a course of treatment. The number of treatments required for optimum results is subject to a number of factors including indication, lifestyle factors and other procedures that may be included in the overall treatment programme. This will be assessed during the consultation. Results with LED Phototherapy are cumulative and a course of treatments taken in close succession is recommended for optimum results. Results can last for several months and regular maintenance treatments offer lasting improvement in the appearance and health of the skin.
SKIN REJUVENATION
RED AND BLEMISHED
SKIN PIGMENTATION
Keep Your Appointment Here
Book consultation