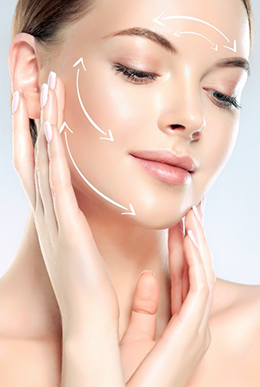 WHAT IS HIFU?
HIFU (high intensity focuses ultrasound) is a non-surgical, non-invasive treatment that uses focused ultrasound energy to lift and tighten the skin. It works by bypassing the surface of the skin to deliver the right amount of ultrasound energy at the right depths and temperature to stimulate collagen growth. High Intensity Focused Ultrasound (HIFU) directly delivers heat energy to the skin and subcutaneous tissue that can stimulate and renew the skin's collagen and therefore improving the texture and reducing sagging and drooping of the skin. It literally achieves the results of a facelift without any invasive type of surgery or injections; an added bonus of this procedure is that there is no downtime. Often referred to as a non-surgical facelift, the lunch time Lace lift, and the ultrasound facelift. It's a great treatment if you're looking to lift and tighten areas such as the face, neck and upper chest, but you're not quite ready for surgery or to prolong surgery results.
FAQ's

What Is (HIFU) High Intensity Focused Ultrasound?
HIFU is a non-surgical face treatment that uses ultrasound to actually lift muscle and tone loose or sagging skin without any downtime.
What Is Unique About This Procedure?
HIFU is the only non-invasive treatment that can specifically target the deep foundation below the skin that is addressed in cosmetic surgery without cutting or disrupting the surface of the skin. It is also the only procedure to use ultrasound imaging, which allows us to actually see the layers of tissue we target during treatment and ensure the energy is deposited precisely to where it will be most effective.

What Does The HIFU Therapy Do?
HIFU deposits focused ultrasound energy below the surface of the skin to contract the facial layer as well as stimulate the body's creation of new collagen. As a result, skin will actually begin to lift and tone over the course of 90days.

What Does Collagen Do?
How Does HIFU Stimulate The Creation Of Collagen? Collagen is a natural protein that gives skin its youthfulness by keeping it firmed, toned and elastic. As we age, collagen loses its elasticity and its ability to stand up to the effects of gravity that pull the skin downward. HIFU jump starts a repair process that produces fresh, new collagen. Is HIFU Surgery? No. Unlike a face lift, HIFU is a non-invasive procedure that addresses the skin and support layers below it, but doesn't entail cutting or disrupting the surface of the skin.

Can HIFU Replace A Face Lift?
HIFU is an "uplift" not a "face lift." While it is not a replacement for surgery, it is a viable option for those not ready for a face lift or those looking to prolong the effects of cosmetic surgery.
How Is HIFU Different From Lasers?
Lasers typically address issues in the superficial layers of the skin (e.g. fine lines, wrinkles, pigment changes). HIFU addresses the deep skin layer and the foundational layer addressed in cosmetic surgery that lift and lend support to the skin. Therefore, the two technologies are quite complementary!

Is HIFU Safe?
The procedure has been cleared after demonstrating safety in clinical studies, and tens of thousands of treatments have been performed safely worldwide. In addition, ultrasound energy has a proven track record, with use in the field of medicine for more than 50 years.

How Long Does The Ultrasound Treatment Take?
A full face treatment takes 60minutes, and a partial face or brow lift treatment can take around 45 minutes—90 minutes neither with any downtime.

Is There Any Downtime?
HIFU is an entirely non-invasive procedure and as such, there is no downtime. You are able to return to your normal activities right away, and there are no special measures you need to take.

Who Is Suitable For Treatment?
A suitable candidate is someone who is aged 30+ who has noticed that the skin on their face or neck has become more lax and wishes to lift and tighten the relevant area. For patients in their 30s it is typically used to stimulate collagen production and hence help delay the ageing process. Patients in their 40s and 50s are the most common age group who have this treatment. It is also suitable for those aged 60+ provided the degree of laxity is not too great. It is also for those who have had surgery in the past to prolong the effects of surgical face lifts.

How Long Until I See Results?
Clients may witness some initial effect, but ultimately lifting and firming will take place over approximately 3 months, as collagen is renewed and replaced with new, stronger collagen. As this collagen building process continues, continued improvements can appear for up to 6 months.*

How Long Do Hifu Results Last?
Most people find results last 1-2years, although yearly touch-up treatments are recommended to stay ahead of the ageing process.

Does HIFU treatment hurts?
Most people do not report pain. There can be slight aching over bony areas or a warm sensation in the skin during treatment.
Keep Your Appointment Here
Book consultation