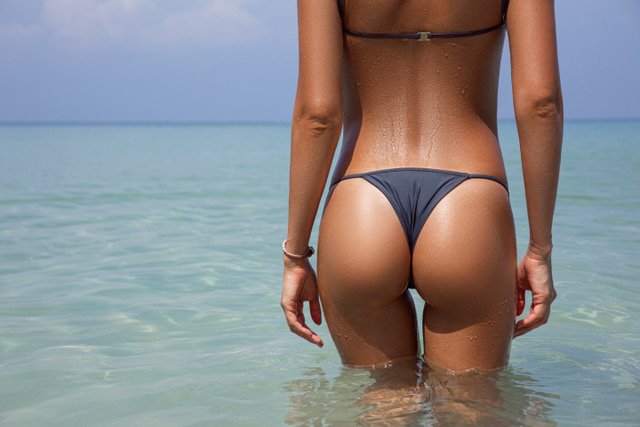 WHAT IS THE ULTIMATE NON-SURGICAL BUM LIFT?
Do you desire a smooth, perky, uplifted derrière? Enzo Aesthetic has created the absolute combination of treatments to help lift and contour your bottom. Enzo Aesthetic Team along side with our training medical consultants has combined a selection of powerful treatments to deliver impressive results. The Ultimate Non-Surgical Butt Lift is an exclusive treatment and combines five to seven effective fat reduction and skin tightening treatments, specifically designed to help you achieve a better contoured, uplifted bum. What makes this non-surgical solution so unique is that it can provide amazing results without the lengthy downtime of a surgical Brazilian butt lift.
Starting with Carbxy Therapy, this revolutionary treatment works to stimulate the body's natural response to combat cellulite and sagging skin. The use of CO2 injections prompts fat cells to become permeable and eventually break down, whilst enhancing your lymphatic drainage to eliminate them naturally from the body. Carboxy therapy improves circulation and oxygenation as well as stimulate the production of elastin and collagen. Next, the power of Radiofrequency energy is deployed, delivering a precise level of heat to target different depths of the skin, tackling localised fat and loose skin, further improving the firmness and shape of your buttocks. The Radiofrequency element of the Ultimate Non-Surgical Bum Lift can also help to increase the metabolism and secretion of fat. Radiofrequency is followed by Mesotherapy, an advanced microneedling treatment that can help to rejuvenate and revitalise the skin. Microneedles are used to rapidly inject skin-nourishing and cellulite-busting solutions to help dissolve fat cells, improve circulation and reduce the appearance of cellulite. Collagen production is also triggered, offering additional firming and revitalising benefits to the skin.
The treatment will be completed by HIFU bum lift one of most powerful non surgical lifts technologies.
To further enhance firmness and elasticity, we would recommend combining your treatments with one of our most effective firming creams for the buttocks which will be chosen during consultation. The duration of each treatment will be tailored to your individual needs; however, the overall treatment will last up to 90 minutes and we usually recommend a course of 8 treatments, between 7-10 days apart.
All treatments are tailored to the individual and personal experiences and results may vary. We recommend a one to one consultation with our aesthetic practitioner to discuss your treatment options.
WHICH CONCERNS DOES THE NON-SURGICAL BUTT LIFT ADDRESS?
Whether you were never blessed with a pert bottom or whether your bum has drooped with age or changes in your weight, the Ultimate Non-Surgical Butt Lift at Enzo Aesthetic can help to improve the shape of your bum. In addition, it uses numerous highly effective technologies to tackle stubborn fat, cellulite and sagging skin. It can also help to smooth out blotchy and uneven skin tone and texture, also known as keratosis pilaris or chicken skin. If you've been 'sitting on' all or any of these frustrating concerns, this bespoke treatment package could be the solution you've been looking for.
WHY SHOULD YOU HAVE THE NON-SURGICAL BUTT LIFT AT ENZO AESTHETIC?
Enzo Aesthtic has formulated this treatment due to patient demand. Understanding the exact concerns that our patients would like to address led to the combination of these treatments to form the Ultimate Non-Surgical Bum Lift. Our passion and dedication for beauty and our amazing customer service is what makes us different from the rest. We listen carefully to what our clients need and create a completely bespoke treatment plan, tailored to their individual concerns and lifestyle. Our highly experienced practitioner are trained to the latest standards and strive to offer the most impeccable services. They will monitor your progress closely to ensure you are getting the best possible results from it.
TECHNOLOGIES USED
Carboxy Therapy

Radiofrequency
Cavitation
Needling radiofrequency
Mesotherapy or PRP/PRF
HIFU
Summary of The Ultimate Non-Surgical Butt Lift at Enzo Aesthetic
Procedure Time 30-90 minutes

Back To Work Immediately
Anaesthetic None
Downtime Minimal
Duration Of Results Maintenance may be required
Results Course of 8 recommended*
Keep Your Appointment Here
Book consultation