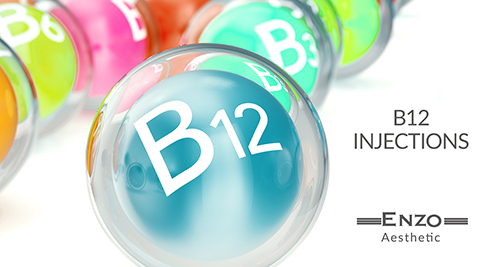 If you are feeling tired and run down all the time you may have a vitamin B12 deficiency.
-Maintains a healthy immune system
-Contributes to a normal functioning nervous system
-Reduces tiredness and fatigue
REVIVE yourself
If you are feeling tired and run down all the time, suffering from unexplained aches and pains and continually falling victim to colds and other infections, then you may have a vitamin B12 deficiency.
B12 is an essential vitamin that you can become deficient in, particularly if you follow a restricted or special diet, if you're pregnant or breastfeeding, if you suffer from certain health conditions or if you are over a certain age. Heavy smokers and drinkers can also, they have low levels of B12.
First, we will carry out a blood test to establish whether you are deficient and then devise a treatment program to build up your levels of this valuable nutrient.
Everything you need to know about vitamin B12 deficiency.
It's essential for a healthy immune system and regulates mood.
Why do I need vitamin B12?
B12 is involved in producing red blood cells, maintaining a healthy nervous system & converting food to energy. It also helps to regulate the immune system & mood & control levels of the amino acid homocysteine, elevated levels of which are associated with heart disease. Most people who eat meat, fish, eggs & dairy products get enough B12. Vegans are advised to eat fortified food & take supplements.
How much do I need?
The UK government says adults need 1.5 micrograms (mcg) a day, the US National Institutes of Health advises 2.4mcg & the European Food Safety Authority says 4mcg a day is adequate. The US & Europe, but not the UK, recommend higher levels for pregnant and breastfeeding women. A study published last year found one in 12 women aged between 19 and 39 were B12 deficient, despite consuming at least the UK recommended minimum intake.
What are the symptoms and causes of B12 deficiency?
Symptoms include fatigue, faintness, headaches, pale skin, loss of appetite, weight loss, pins & needles & a sore, red tongue. One of the main causes is the autoimmune condition pernicious anaemia. Other causes are conditions affecting the stomach or small intestine, such as Crohn's disease, operations such as gastrectomies (which involve removal of part of the stomach) & certain medications. Researchers have also identified a gene variation linked to B12 deficiency. Long-term deficiency can lead to serious heart & neurological problems.
Am I likely to have B12 deficiency?
Studies suggest the prevalence of deficiency in the UK is one in 10 people aged 75 & over, one in 20 aged 65-74 & lower in younger age groups – except for vegans, where prevalence is around 11%. However, some say these rates are based on deficiency thresholds that are set too low. The main test measures B12 circulating in blood serum. Doctors can also look for enlarged red blood cells.
Experts disagree about how sensitive these tests are. "The blood tests are largely reliable," says Catherine Collins, spokeswoman for the British Dietetic Association. "There may be some people who fall within the normal range but need a little more B12, but I reject the idea that they need a lot more."
Dr Ayan Panja, a GP in St Albans with an interest in preventive medicine, disagrees. "There is much disagreement around the validity of the tests among professionals. My view is that B12 deficiency is underdiagnosed & can sometimes explain clusters of symptoms such as migraines, cramps, food digestion & sleep problems, dementia & depression."
What happens on the day of your appointment at the clinic?
-MEDICAL CONSULTATION
Our trained specialist practitioner will consult you to check your health and agree with a vitamin shot to suit your needs.
-HAVE THE SHOT
One of our expertly trained practitioners will give you your therapeutic shot: it takes just five to 10 minutes.
-ENJOY YOUR DAY.
You can rest for a few minutes or leave straight away to resume your day. Some clients feel immediately better: others feel the improvement later or the following day.
Keep Your Appointment Here
Book consultation